The ABC's of Negotiating - Step 2 - Next Steps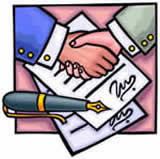 As we discussed in the article in August 2011, "Negotiating to a win/win in B2B - 9 Steps", we will be providing some 'HOW TO' thoughts for the nine steps mentioned in that article.
This month's article is about gaining agreement on what the next steps would be after an initial conversation has occurred.
Remember, in all of these steps we'll be discussing, use the concepts of 'quid pro quo' and ABC (Always be closing - for the next step).
NOTE: In the article we will be referring to the small box label 2 in the image below.